...rarest of the group was the Harley. A total of 109 were made, including prototypes. But over the past 15 years that would have to be one of Fender's best.
From: Strat Collector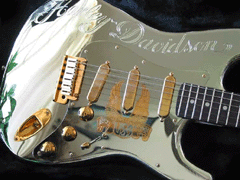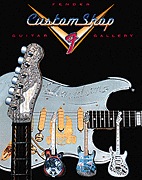 Jay Leno
Eric Clapton
Bob Dylan
Travis Trit
Willie G. Davidson
Limited Edition Print Available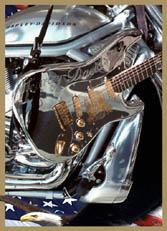 The most photographed and best known Fender Custom Shop Stratocaster. 1993 marked the 90th Anniversary of the Harley-Davidson Motor Company. The Fender Musical Instrument Company helped celebrate the event with the Custom Shop production of 109;
Chrome & 14k Gold Plated Aluminum Body with Birds Eye Maple Neck and Ebony Fingerboard
Harley-Davidson 90th Anniversary Stratocasters.
60 units were made available to Fender's qualifying "Diamond" dealers and carry the Diamond emblem on the headstock. Of the remaining 49 units (which do not have the Diamond emblem), 40 were produced for export and 9 were delivered to Harley-Davidson. This one is #042, coincidentally the year in which Jimi Hendrix was born. And no one has added to the Stratocaster legend as much as Jimi.
Guitar Purchase Inquiries:
Exclusive Sales Agent, Art Chum Art@ArtChum.com
Includes:
Certificate of Authenticity, Signed by John Page
Diamond in Headstock
Custom Leather Harley-Davidson Guitar Strap adorned with Metal Studs and Conchos
Custom Fringed Leather Gig Bag
It all fits snugly into the Specially Designed Road Case.